Practices of Tree Pruning
Crown Raising: Crown raising is commonly practiced to clear sidewalks, roads, and or buildings from low obtrusive branches. We will refer to this practice as "raising and balancing the canopy of the Tree"
Crown Reduction: Crown reduction is the method of reducing the overall size of a tree's canopy pruning. Crown reduction is done for a variety of reasons; one of the most important is to alleviate unnecessary weight (dead, diseased, and crossing branches) from the canopy of the tree.
Crown Thinning: Crown Thinning is the removal of small branches throughout the interior of a tree. Thinning reduces "windsail" and weight that might otherwise contribute to a tree's up rooting. Another advantage of thinning is to allow more filtered sunlight to the yard.
Crown Clearing: Crown Clearing is the removal of all dead, diseased, broken branches from the trees canopy.
Preventing Damage from Root Systems
Root barriers are used to prevent invasive root systems from damaging our homes' foundations. Root barriers are installed safely between a tree's trunk and dripline–redirecting the root system away from the foundation.
If logistics allow for the root barrier installation to be installed past the drip line (edge of canopy) than more ideal conditions exist for the tree to incur less shock by the root loss.
Windstorms commonly cause severe tree damage.

Tree Repair

Strong winds frequently cause branches or limbs to pull away from the tree or to break off entirely. Trees that have been damaged as the result of a windstorm should be repaired as soon as possible to prevent further damage to the tree as well as to prevent additional branches from falling and causing harm to people or property.

Lightning commonly causes unseen yet severe tree damage. Lightning damage is less straightforward than the damage caused by wind alone. Because of the electric current that runs through the tree when it is hit by lightning, the tree may experience an immediate death that is not obvious to the layperson. Lightning may also hit the tree root system during a summer storm, killing the tree without causing immediately obvious damage. The tree may continue to appear alive only to experience an "unexplainable" death in the winter. If you know or suspect that your tree has been hit by lightning, Tree Service Fort Worth professional tree repair experts can perform an initial tree repair immediately after the storm to lessen the damage caused by the lightning. Major surgery may be delayed in order to evaluate the tree's long-term viability.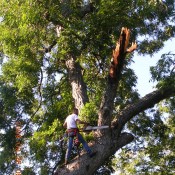 Older trees may require repair in order to extend or maximize their life. With proper and regular care, trees normally live for many years without need for tree repair except under the unusual or unforeseen circumstances mentioned above. However, trees are living organisms that experience a range of diseases associated with aging. "Old age" tree repair is conducted on a tree-by-tree basis by our knowledgeable team of professional arborists.
Trees are often unintentionally damage by homeowners. Trees can be damaged when treated improperly. Usually an individual's intention is not to deliberately hurt the tree, but it happens. A tree can be damaged when it is used to support one end of a cable, when a heavy chain is used to hang something from a branch or when a hook or other hardware penetrates the tree's trunk or branches in order to support another object (i.e., a planter, swing, etc,). Tree repair in these cases are handled on a tree-by-tree basis by our knowledgeable team of professional arborists.
Trees can be damaged by decay and fungus. Like humans, trees get sick. Common signs of a sick tree are the presence of mushrooms or fungus growing around the base of the tree, bark missing from the tree or unusual growth around the base of the tree that does not ordinarily grow in its proximity. A sick tree may also lean in one direction – this is typically indicative of an unhealthy root system. Sick trees should receive immediate attention from a professional arborist.
Safety
Roof clearance
Preventative storm thinning
Utility line clearance
Dead & broken limb removal
Beauty
Visual clearance
Thinning to allow more filtered sunlight for turf.
Storm damage correction
Sucker growth removal
Health
Thinning for light & air penetration
Invasive species removal
Insect treatment
Disease treatment
Characteristic shape restoration


Organic Fertilization

Trees that grow in an urban environment can often be affected by the conditions around them — namely, the soil. It can lack the essential nutrients needed for trees and plants to thrive.

ORGANIC FERTILIZERS: A BREAKDOWN

Have you ever wondered how organic farming came about?

In 1962, a nonfiction book called Silent Spring was published. It was written by marine biologist Rachel Carson, who had gathered reams of data about the harmful effects of pesticides such as DDT. She was particularly concerned about the death of birds, which prompted the book's title. (The absence of birds, she felt, would lead to a "silent spring.")

The book's widespread acclaim led to a nationwide ban on DDT in agriculture. It is also credited with being the first step toward the development of the U.S. Environmental Protection Agency.

Organic fertilizer components

The main ingredient in organic fertilizer is peat, which is a decomposed vegetable matter. Other components include animal waste from slaughterhouses, compost and chicken manure mixed with sawdust. The latter mixture, according to the Agricultural Research Service, is particularly effective; cotton fields fertilized with chicken litter had a 12 percent increase over fields that used synthetic fertilizer.